Clear Cache and Criteria Data is used to delete temporary files or clear Form Cache so that some of the recently changed setting can apply immediately.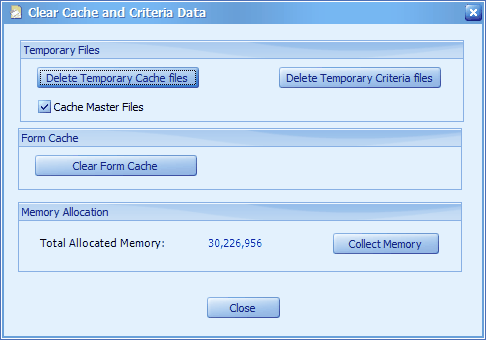 Delete Temporary Cache files: to delete all temporary cache files (e,g, master data) of entry function. Run this if you opined that current temporary cache files need to be refreshed.

Delete Temporary Criteria files: to delete all temporary criteria files of the reports. Run this if you want to refresh the default report criteria.

Cache Master Files: decide either to cache master files or not. To cache master files will add load to local PC but usually result in faster process.
Clear Form Cache: to clear all the entry form (e.g. transaction) cache. Run this if you suspected the forms are not refreshed after changes of setting.
Collect Memory: this is to collect back memory that was allocated but no longer in use. This action will reduce Total Allocated Memory.