How to Edit and Publish My Existing Lazada Listing #
Step 1: Go to Products and then select the Lazada Listing.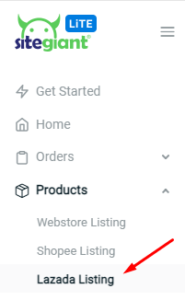 Step 2: You'll be able to view the list of products from Lazada seller center.

Step 3: Click on the product name to edit.

Step 4: Update the product information accordingly.

Step 5: Click on 'Update' button to immediately sync over the latest information to the Lazada seller center.

For Latest Guide: Click here
Credits: SiteGiant Lite