Step 1: Click on Applicants at Job Board.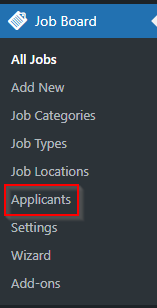 Step 2: A list of all the job applications is shown. At the left side is the job applied by the applicant, at the right side is the applicant name who applied for the job.

Step 3: You can view, edit or trash the application submission.

Step 4: Press the application you wish to view. You will see the details of the applicant.

Step 5: Click "Resume" to download the resume of the applicant.

Step 6: If you wish to contact an applicant, please e-mail or make a call to the applicant manually.